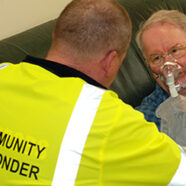 What is a Community First Response Scheme?
A Community First Response (CFR) team is made up of a group of volunteers. Our team of CFR's are highly trained individuals who operate as a charity under the governance of East Midlands Ambulance Service NHS Trust.

The scheme was set up because approximately 600 people die each year unnecessarily of cardiac arrest and those who live in a rural area can expect a slower response from the Emergency Services than town dwellers.


Every Minute delay reduces the chance of survival.
In a CFR's case the control room will despatch them to an emergency call within their area. At the same time an Ambulance will also be dispatched. Whilst the larger vehicle and crew are still on their way, CFR's have usually completed the essential patient assessment and began treatment. Once the crew arrive, the professionals will then take charge and transport the patient to hospital if needed.
Community First Responder Schemes ensure that local people are trained in simple and safe techniques that can be used to save lives. These techniques are rarely associated with causing harm and in true life and death situations, there is often little harm that can be done compared to doing nothing at all.
All Community First Responders are trained to a high standard and will be expected to operate within a code of practice. Community First Responders will be indemnified against accidental injury and third party liabilities by East Midlands Ambulance Service NHS Trust. As agents of the ambulance service, they are insured against any medical errors arising, providing protocols are followed.
Community First Responders are primarily called to attend "Category A" emergency calls, these are 999 calls which the East Midlands Ambulance Service deem to be "Serious and/or life threatening" and therefore by their very nature need medical help to arrive as quickly as possible, usually within the first 8 minutes from the 999 call being made.
These types of calls are classed as medical emergencies, and can happen both at home, work or in public places. "Category A" emergency calls are usually where the patient is suffering from some the following illnesses or symptoms:-
Cardiac arrest
Unconscious and collapsed patients
Chest pains (e.g. heart attacks and acute angina)
Breathing difficulties (e.g. asthma, acute on-set bronchitis/emphysema)
Diabetic emergencies (e.g. hypoglycemia)
Fitting or convulsions (e.g. epilepsy)
Stroke (CVA)
Anaphylaxis (allergic reaction)
Choking patients